Things to do
View all our activities!
The Gele Loods (Yellow Shed) is your entry way into the fortress. Take a minute to stroll around the in-house exhibition Naarden and the Dutch Waterline. And, if you want to delve further, the visitors centre has lots of options for touring and architectural exploration by foot, by bike and even by boat! The friendly staff can answer all your questions and point you in the right direction with all the maps and information you need. 
Visitor centre
Visitor centre
Your entry way into Naarden Vesting
Naarden and the Dutch Waterlines
Why is Naarden so heavily fortified? And what had water to do with the defence of the city? To get the most out of your visit, spend some time at our complimentary exhibition Naarden and the Dutch Waterlines before you venture out onto the fortress walls.
GIFT SHOP AND VISITOR CENTRE
GIFT SHOP AND VISITOR CENTRE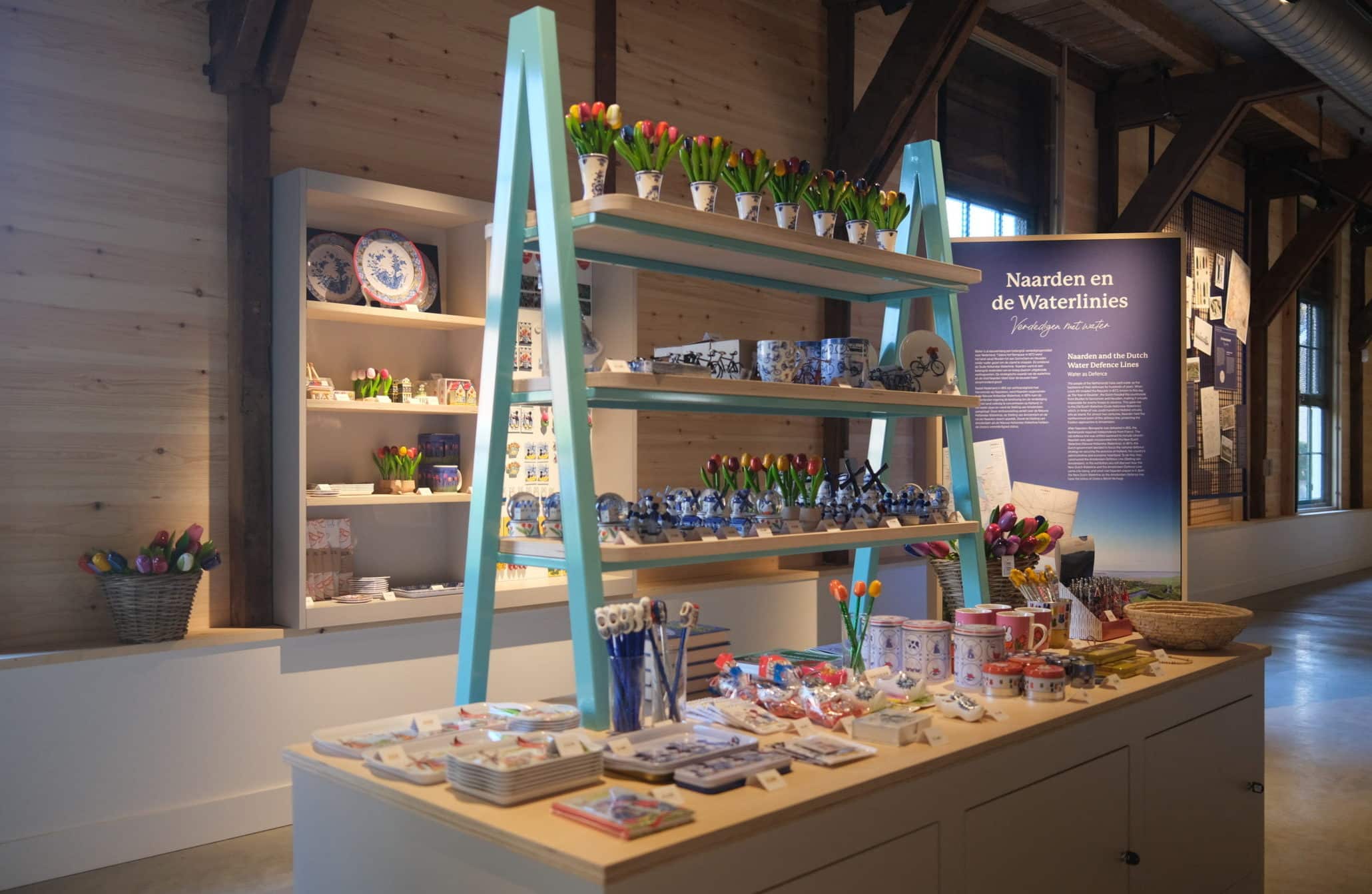 The Gele Loods are on hand to help you get most out of your visit.
The Visitor Centre is your entry way to Naarden Vesting. You can pick up free brochures and maps, book tickets and tours and buy gifts and local souvenirs from our shop. Our friendly staff are on hand to offer helpful information and advice to help you make the most of your visit.
In line with the latest Dutch government regulations, all visitors will be required to show a valid COVID Certificate or QR code before entry.
Activiteiten
Ontdek de Vesting Naarden te voet, op de fiets of per boot
Een Vestingvaart maakt je bezoek compleet
De mooiste manier om de Vesting Naarden te bekijken is vanaf het water. De boten varen in het seizoen twee of vier keer per dag. De enthousiaste schippers vertellen je in ruim een uur, alles over de prachtige stad en haar geschiedenis.
Explore Naarden Vesting by bike
Ontdek de Vesting Naarden en haar omgeving per fiets! Bij de Gele Loods geven wij je graag een korte of langere route mee. Ben je zelf niet op de fiets? Wij verhuren zowel stadsfietsen als elektrische fietsen. In de winterperiode is de verhuur op aanvraag.
Met een gids op pad of liever zelf verkennen?
Met een stadsgids langs alle bezienswaardigheden lopen? Of liever zelf een wandeling maken? In en om de Vesting Naarden liggen prachtige wandelroutes. Of je nu geïnteresseerd bent in cultuur en geschiedenis of van natuur houdt, er is voor iedereen een route beschikbaar.
Sweeping 360° views
Accompanied by our local Tower Guide, climb the tower of the Great Church of Naarden for the best view of the Gooi countryside. The tower is 45 meters high and you'll have to scale 235 stairs, but once you get to the top, you'll be granted the most magnificent view of Naarden and its star shaped fortress.
Go it alone or join a tour
Don't miss a visit to Naarden's Town Hall, the oldest and probably the prettiest public building in the Gooi. Built in 1601 in Dutch Renaissance style with a beautiful crow-stepped gable and an interior that has hardly changed since the 17th century, the Town Hall is a must-see for visitors to Naarden.
Culture in Naarden
Delve into Naarden's culture
Wander around the underground casemates
Curious what life in the fortified town was like? Explore the underground passages and casemates in the Dutch Fortress Museum on Bastion Turfpoort and learn how the fortress functioned during times of war.
Beacon of Holland
With its numerous oak barrel vaults painted with scenes from the Old and New Testaments, a visit to Naarden's Great Church (Grote Kerk) is a must-see destination. Whether you prefer to explore the church at your own pace, take a fully guided tour, or climb the tower with a local guide, we have a range of options available to suit most requirements.
Teacher of Nations: Jan Amos Comenius
The 17th-century Czech Czech teacher, philosopher, theologian and diplomat, Jan Amos Comenius, is buried in the Waalse Kapel (Walloon Chapel) of the fortress's former monastery. Learn all about the life and work of the educational reformer (he promoted the concepts of universal education for rich and poor) at the Comenius Museum next door.
Everything you wanted to know about weights and measures
Why is it that a kilogramme weighs the same everywhere in the world? And who ever decided what the weight of a kilogramme should be? You will find answers to these and many other questions in the Weegschaal Museum (Scales Museum). Located in the Spanish House, it was here, during the Eighty Years' War, that Spanish troops rounded up and killed without pardon almost the entire population of Naarden – 450 years ago next year.
Cultural hotspot in the heart of the fortress
Podium deMess is a beautiful small theatre and wonderful cultural centre in the heart of the fortress Naarden. DeMess hosts a wide range of activities including theatre performances, lectures, live debates, cafes and photo exhibitions. Tickets for performances can be booked through the DeMess website.
Concertpodium voor jong pianotalent
Concertpodium Bij Andreas in de voormalige Andreaskerk biedt een podium aan jong pianotalent. De prachtige concerten zijn te boeken via de website van Bij Andreas.
Arrangementen
Een geheel verzorgde dag in de Vesting Naarden
Boek een geheel verzorgde dag
Met familie, vrienden of collega's een volledig verzorgde dag in de Vesting Naarden? Dat kan! Onze medewerkers staan je graag te woord en stellen naar wens een programma samen. Van activiteiten en cultuur tot high tea, borrel en overnachtingen, alles is mogelijk.